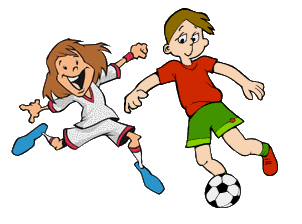 Our school is a very active school . We have Gaelic football and soccer teams and we compete in Gaelic football and soccer tournaments with local schools. We also have a cross-country team. To prepare for this and to cater for children who which to maintain fitness levels, we have a running club that runs 3 days per week during lunch time.
As part of our Physical Education curriculum,children from 2nd class attend swimming lessons once a year for a 6 week block.
We have Zumba classes with Dimitri and Irish dancing with Carmel after school. We also have Gaelic Football with Liffey Gaels for all class levels and David Rake from the FAI across all levels all throughout the year. St. Pats soccer club also come in a work with individual classes throughout the year. We also enter many blitz competetions in soccer basketball and gaa . We also enter teams in The Inchicore cross country schools races .
We won the Active Schools flag in 2014 and we are very proud of that so we have been trying to maintain our levels of activity since then. This year we are targeting Dance across all class levels. We are putting extra effort into dance activities such as Zumba, Irish set dancing and activities on Go Noodle.
In Term 3 we are running OLOLYMPICS again. this is a term of extra active sessions instead of sports day . It was very successful for the last two years. Every week each class group do a different active activity . So far we ve had dance week and athletics week in all classes . Our infants have had a GAA week . Our older children have had mindfulness including Yoga. We hope to have volleyball , orienteering , maths trails , gaa blitz , soccer world cup .We ll also have two of the most popular days last year – pupils v staff Dodgeball and 6th v staff in basketball . Each student is also trying to run a mile per day. All classes run a few laps of the school each day . We ll finish with our mini marathon in the last week . Last year we calculated that we ran as far as New Zealand which was a massive achievement. It was a huge success and allowed us to participate in so many different sports across the Term.
Subscribe to posts